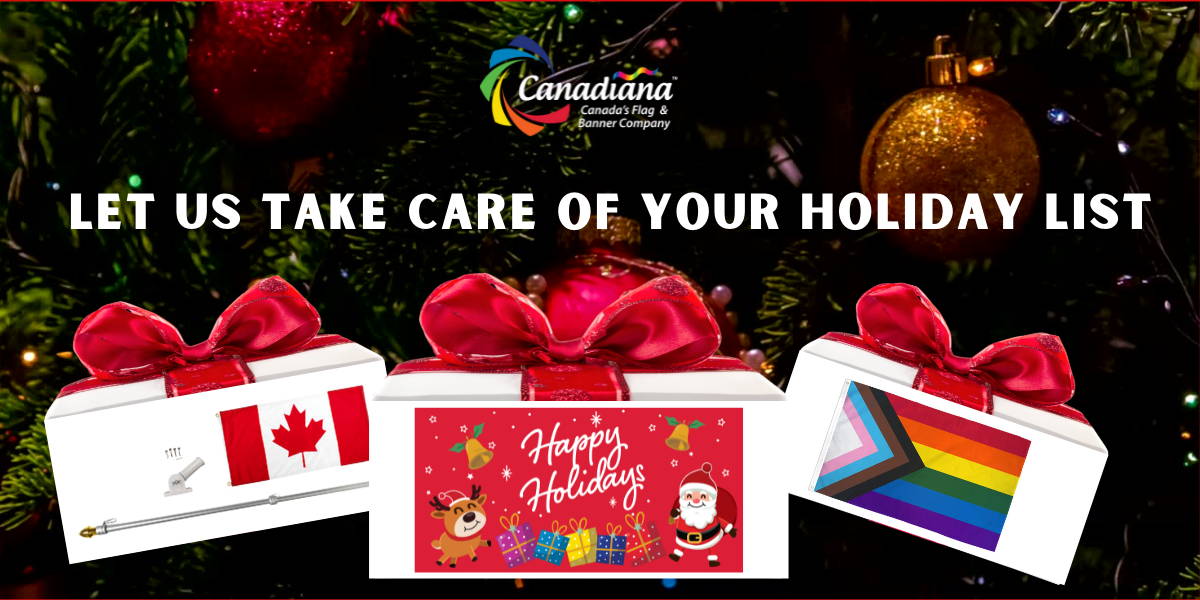 ---
'Tis the season! The season, unfortunately, of COVID-19-related supply chain issues. Many of those go-to gifts for the holidays might be scarce on the shelves. But flags are a direct-to-you solution. At Canadiana, we believe that flags make a personal statement. It represents our beliefs and identity. Therefore, flags make the ultimate personalized gift. Our flags are made in Canada, onsite, so our sales channel leads straight to your door.
Find wonderful and thoughtful gift ideas with our Holiday Gift Guide for friends, coworkers, family and loved ones. From Santa flags and holiday greetings-there are, according to Diversity Resources, 11 interfaith holidays in December and January alone-to bundles that provide a complete package to celebrate Canadian heraldry, we are sure we can help you will find the perfect holiday gifts this season.
Let's get onto the gift guide!
---
SHOPPING TIP: FREE SHIPPING ON ORERS OVER $100. USE THE CODE FREESHIP100 AT CHECKOUT TO CLAIM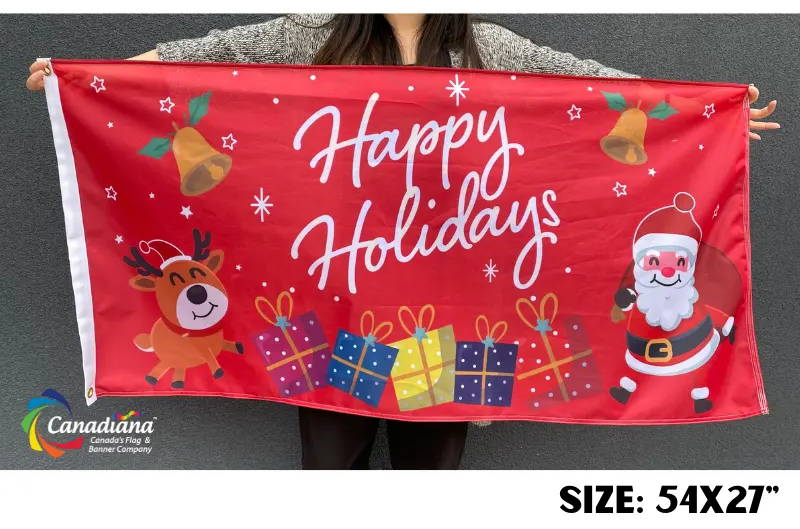 ---
To: Those that Love Holiday Home Décor
We have a vibrant, adorable and cheerful selection of holiday flags that feature your favourite classic holiday characters and festive colours. They make the perfect holiday gift for those who are obsessed with holiday décor during the holiday season.
Of course, we've got Santa, resplendent on a green-spangled background perfect for draping in the living room near the tree. We also have more general Happy Holidays and Season's Greetings variations for the more secular. We can't stock flags for all of the interfaith holidays, but we can create custom flag orders from your own design (time is tight for that at the moment; contact us for a timeline on creation and delivery). And smack in the middle of the holiday season is the celebration of the New Year. Deck out your New Year's party with our New Year, New Start flag. We recommend this flag as a holiday gift to those that feel super determinate when another new year hits.  
---
To: Those that Support the Indigenous Community
Recent ghastly revelations about the treatment of indigenous children in residential schools have galvanized the community around justice for those children and their families. Our Every Child Matters flag demonstrate the solidarity with the cause, whether it's for yourself or as a holiday gift for a friend or colleague. A portion of proceeds from our Every Child Matters flag is donated to the Orange Shirt Society and Gord Downie WenJack Fund.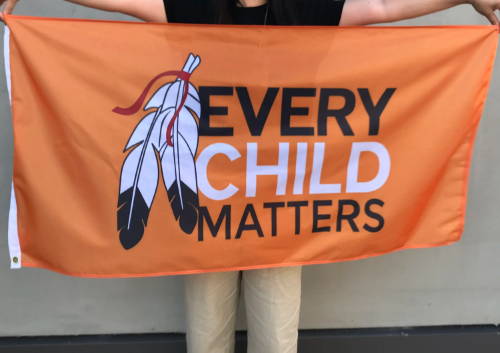 To: Those that Celebrate and Represent the LGBTQ community
Flags can be an important symbol of our identity. Perhaps a friend or family member who identifies as LGBTQ would appreciate a flag from our vibrant Pride Flag Collection as a holiday gift to hang in their room or balcony.(Obviously, in the lead-up to Pride Month in June and LGBT History Month in October, Rainbow flags are in high demand. Giving them as a holiday gift now avoids an out-of-stock situation.)
To: Those that like to Drive Fast!
 Flags for mounting on your friend's car or truck are an inexpensive gift and a flamboyant way for them to express themselves. Sturdily mounted on a 20-inch bracket, these flags cover a range of themes, from national pride to support for social causes to sentiments such as Toronto Raptors president Masai Ujiri's now-ubiquitous and enduring We The North.
---
To: Those that are looking for a new Statement for Home or Office
Save with our new flag and flagpole bundles! Let us help you make the right decisions for your flag and flagpole setup. There are many things to consider when it comes to getting a new flag and flagpole that work cohesively together. At Canadiana, we decided to do the work for you to create a bold holiday gift.  
Whether it's the Canada North bundle, with heavy duty 18-foot pole with a solar powered light (flags that are flown at night should always be lit), the Canada Home bundle with all the hardware to mount on the side of a building, or the Presentation bundle, with six-foot indoor flagpole, you have an array of options to suit a home or office. Every home and Canadian company deserves a Canadian flag.
---
To: Those with Canadian Pride
A Canada flag is never an inappropriate gift. Perhaps a friend's is flying tattered, contrary to etiquette; replace it with a fresh new Canada flag from our huge range of fabrics and finishes. Maybe you could cement your friendship with one of our hand-finished applique flags, with a solemn drape and weightiness that reflects the gravitas of your relationship.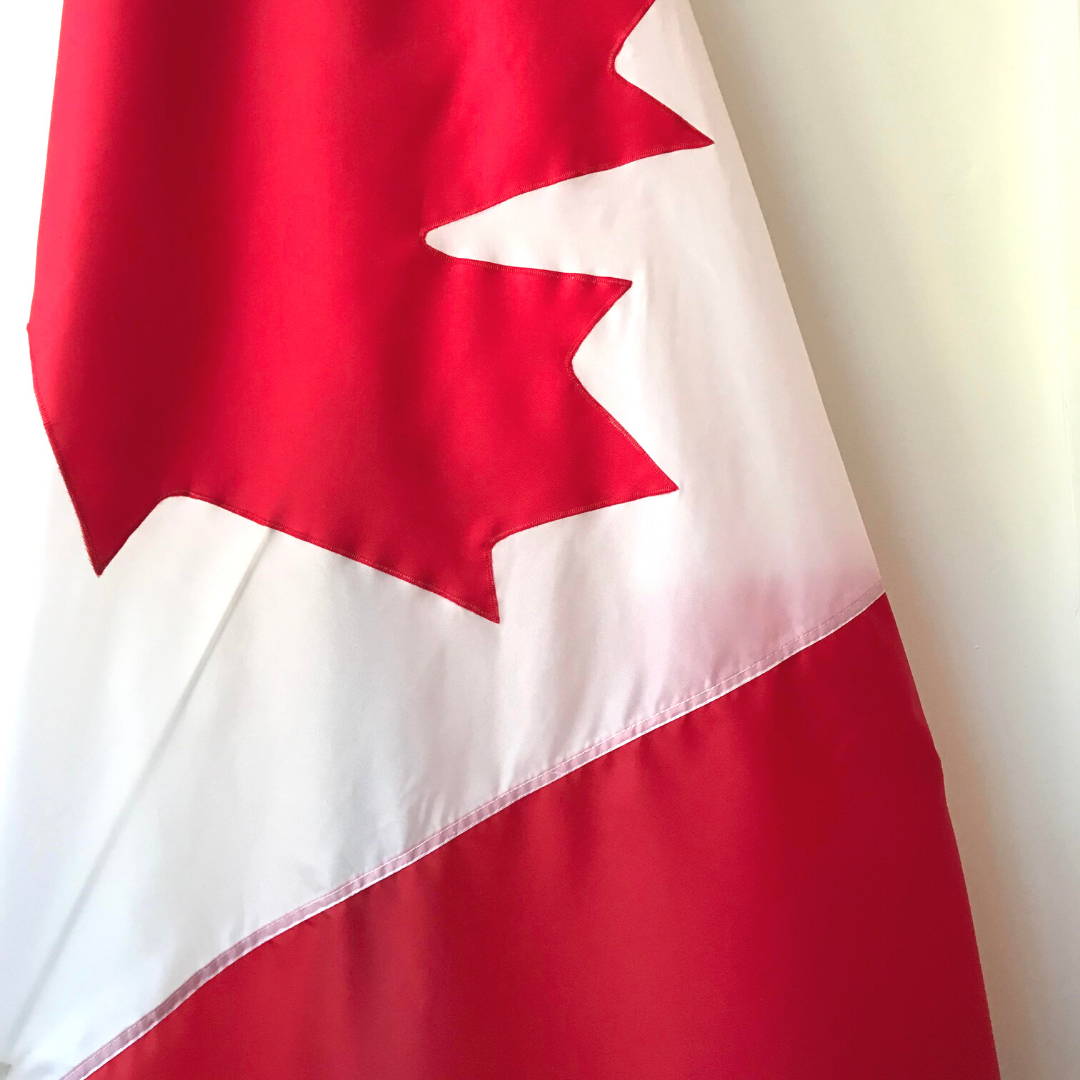 ---
To: Those on the Front Lines of the Pandemic
We've relied on frontline workers throughout the past two years of pandemic life. When we needed them, the manned up (or womaned up), masked up and did the work. Thank them with one of our inexpensive appreciation flags as a holiday gift or fly one yourself to show them you recognize their contributions.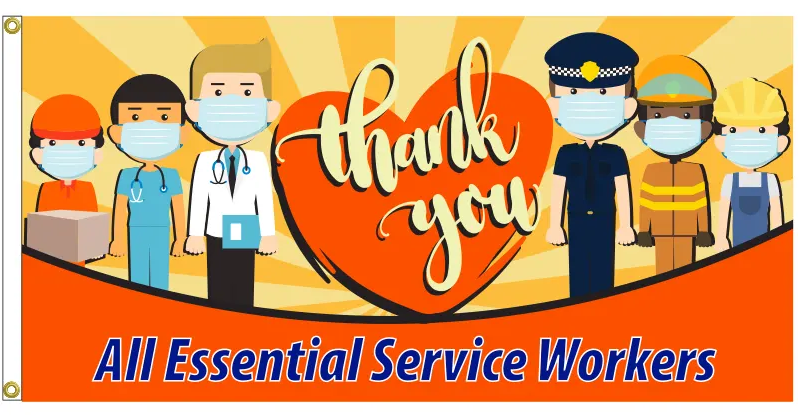 Whatever and however you celebrate, our team at Canadiana wishes you the best this holiday season.
---