Tuff Fly Canada Flag
$34.00
$38.00
you save $4.00
Canada flags collection
All the Canadian Flags we manufacture are embedded in a rich history of the Canadian Flag dating back to 1910. Shop Our Canada Flags collection made from a variety of specialty fabrics for durable indoor and outdoor use.
Pride flags collection - Spread Love and Acceptance
Our carefully curated Pride flag collection is a symbol of unity, support, and pride for the LGBTQ+ community and allies. Take a stand for love, equality, and acceptance! Show your support to the LGBTQ+ Communities with our Vibrant Pride flag collection.
Flagpoles and Hardware
Pair your flags with our curated collection of flagpoles and hardware for home or commercial use that combines quality, durability, and style. Choose from our wide selection and fly your pride high today! Trust our products to elevate your flag display and make a lasting impression.
CANADA ENSIGN HISTORIC EMBROIDERED/ APPLIQUÉ COLLECTION
Evolution of the Canadian Red Ensign Flag from 1868 to 1965 used the highest quality materials to make our historically accurate ensigns. Each hand-cut and sewed flag commemorates our nation's history and enterprise in every stitch.
Vintage Marine Burgees
We offer and produce most past and present Burgees including all Yacht clubs being the proud producer for the Canadian Power Squadron
Hot Deals !
Bundle package for more saving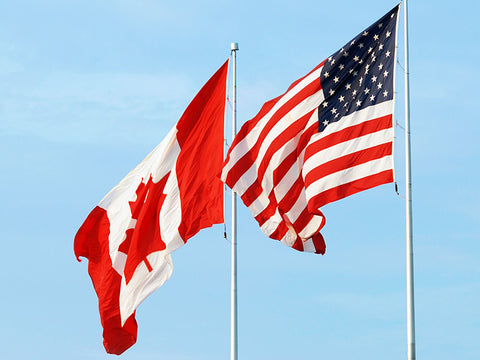 Best Sellers
Check out our collection of best selling Canada flags, flagpoles and accessories
Free shipping on orders over $100 before taxes *excluding flagpoles*
Monday to Friday from 9:00 am - 5:00 pm EST
within 5 days accepted in a good original state
Get to know our brand story and journey
Fly your colours high with our expert touch
Printed with pride, crafted with expertise - Your one-stop shop for custom flags, fabric printing, and embroidery straight from the manufacturer!
Testimonials
What our clients say
Wonderful Canadian flag

I'm an American, but a big fan of Canada and wanted a high-quality stitched Canadian flag. I found Canadiana after reaching out to the Canadian Government inquiring about some of their official flag suppliers. Couldn't be happier with this flag. It is official dimensions of 2:1, has a stitched maple leaf instead of printed, and looks great. Canadiana's team also worked with me to get the flag to me fast, while I was staying at a hotel in Canada.
Quality and vivid colours

I purchased the Every Child Matters Flag and am very pleased with the quality and viviod colours of the flag. I live on unceded land of the Kwakwaka'wakw Nation and have received numerous compliments on the flag and would highly recommend tis Canadian company.
Very satisfied... Tuff Fly flag

This flag lives up to its namesake: Tuff Fly Flag. After trying so many other companies and being very disappointed of the shredding of the flag after a couple of weeks (it is on a very windy hill). I came across this company and read the description of the Tuff Fly flag. It sounded too good to be true. But I must say, it is great! We put it up in August 2021, almost 6 months ago, and still no shredding at well! We are so happy... very satisfied customer. Just bought 4 more... so we don't ever have to worry about finding a durable flag again.
Quick and Convenient

We lost our old flag pole in a huge windstorm and wanted and replacement ASAP. In less than a week we were able to pick up our new pole and flag, complete with the line and clips. Very efficient and responsive service.
Geoffrey A. W. Hastings.
Customer
Satisfied Customer

I am happy with the purchase from Canadian flag. The delivery service was great and easy to track my item. Highly recommend for anybody looking for flags and banner designs.
It's a 5 stars experience, quality of the product is way over experience, quality of the product is way over expectations and the service is quick, efficient and they really take of the customer.

Thank you guys, you have loyalized one more customer. I highly recommend Canadiana Flag
I've ordered these flags for my work and they are fantastic. We have many properties along the shoreline that have high winds most of the time and these flags have already lasted about 4x longer than the previous ones we were using. Ordering more to replace the others.
I'm PROUDLY Flying my Flag for the Support of the Ukraine from my Truck out here in Ajax Ontario. Thank you for doing such a Beautiful Job with that Flag Design
About us
Printed with pride, crafted with expertise
Your one-stop shop for custom flags, fabric printing, and embroidery straight from the manufacturer! We at Canadiana use the highest quality materials, inks, design techniques, and construction techniques to create our flags, banners, flagpoles, and promotional products. Through our passion and desire to bring quality products and services to Canadians, we have become one of Canada's leading manufacturers of flags industry across Canada.
The RIGHT PRODUCT, RIGHT TIME, and RIGHT PRICE are our commitments to you.