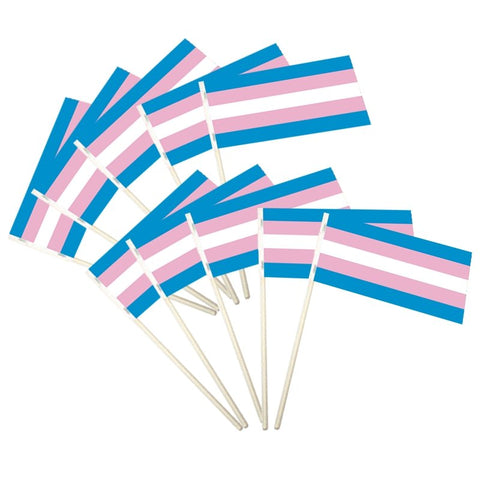 Canadiana Flag
Transgender Paper Flag
** Purchased in bundles of 10
Annual parades, festivals, and gatherings are held every year to celebrate the diversity of identities. Show your support for the LBGTQ community by waving these Transgender paper flags. Engage the crowd by combining it with a bigger Durapoly Transgender flag mounted on to a portable hand-held flagpole.
Purchased in bundles of 10

Digitally printed double sided attached to a 9.5" white paper stick

Constructed from a durable, tear and water resistant Scrim Paper

Lightweight and portable

Reusable and recyclable

Product satisfaction guaranteed

Made in Canada
Ready to ship in 1-2 business days depending on the quantity.
Please contact us for a quote at info@canadianaflag.ca if you require quantities of 50+. The more you buy, the more you save
Exactly as promised!
Had no complaints about the service or shipping. Although I ordered waaaaay too many and they had to be cancelled because of a lag on the website so don't keep hitting order like I did!