The history of behind Canadiana Flag is a long and interesting one. We are a Canadian flag company that has years of rich embedded history behind our name, Canadian flags and production practices. Hence, we are your top notch local Canadian flag experts.
Your Local Canadian Flag Expert since Est. 1910  
Our journey towards the modern and digital era first begins with a businessman named John Fredrick Scythes who started a company called Scythes & Co in 1910. Scythes & Co. was largely a textile jobbing business. The company bought second- and third-hand clothing to cut into rags, which were in heavy demand for industrial companies. The company even distributed industrial wipes for Kimberley-Clark. Scythes & Co. played a huge contribution to the early railroad companies. In fact, John Fredrick Scythes became the first president of the Toronto Railway Club who didn't come from a railroad background.
---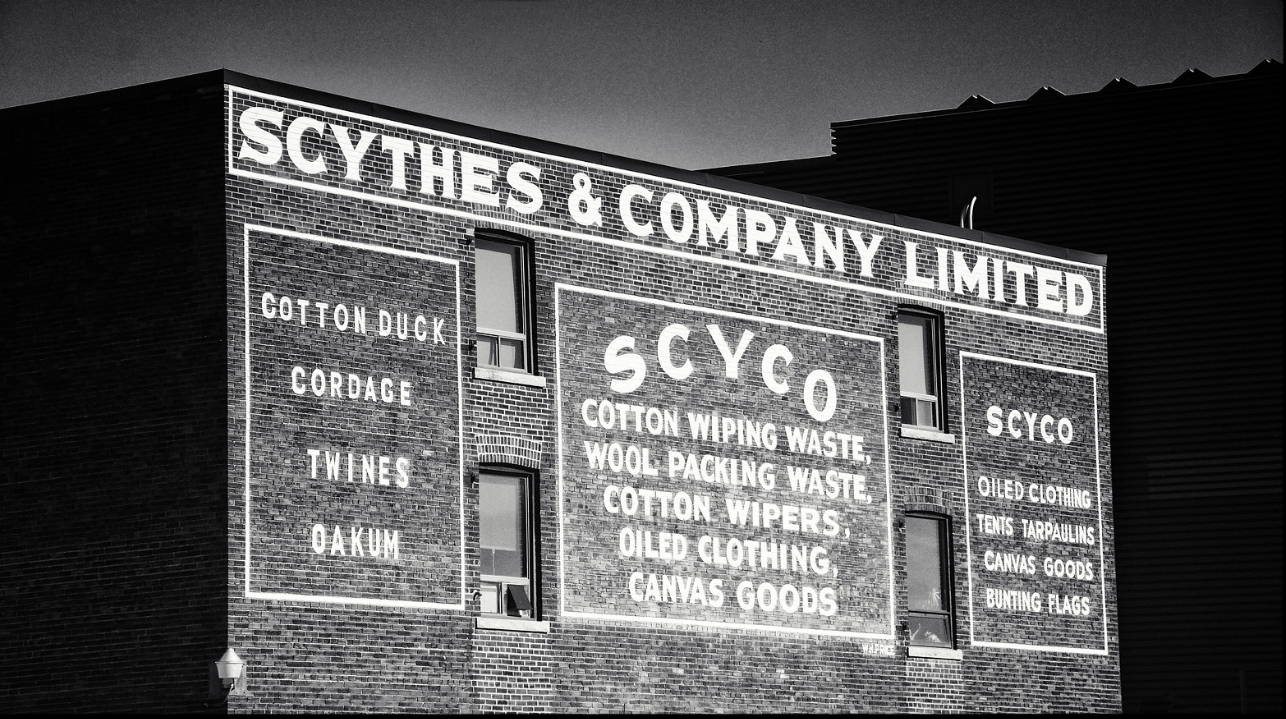 Some Interesting Items We Produced before Canadian flags
Besides supplying rags that fueled a majority of the industrial sector, over the years, the company produced a number of curious products that were decidedly *not* flags.
1. Canvas Newsboy Bags
Back before heavy duty nylon took over the space, Scythes & co. produced canvas newsboy bags. This followed with Awnings and tarpaulins that were also a substantial business for the company.
2. Canadian Army Equipment
For World War II, the company pivoted its canvas production to supply tents for the army. In the late 1960s, DuPont Canada created Fabrene, a woven polyester fabric cheaper than canvas. At around the same time, Sunbrella created an eponymous fabric with a much longer lifespan and better resistance to light degradation. Scythes & Co. moved with the times.
3. The Group of Seven Artwork Reproductions
Scythes & Co. owned reproduction rights for some of the artwork produced by the legendary Group of Seven. These images were reproduced on warehouse calendars given to customer shops.
4. Firefighter Coats
Firefighters' coats, made from dyed fabric treated with Sterling flame retardant coating were another offering.
5. Cow Mattresses—because a comfy cow produces more milk.
6. Neoprene-coated rainwear and aprons
We were a rare company that offered waterproof synthetic fabric.
ENTER DR. DAWOOD:  The Transition to Advanced Technology for canadian flags
Dr. Farooque Dawood emigrated to Canada from Pakistan. With a PhD in chemical engineering, Dr. Dawood saw an opportunity in the rugged fabric business that dovetailed with his own experience and expertise and, in 1975 negotiated a purchase of Scythes & Co. from the Scythes family.
Though he kept the company name, Dr. Dawood put his own stamp on the company. His biggest contribution was mechanizing time-consuming handwork or manual labour. In other words, he pushed the company to switch to an automatic approach when it came to maximizing labour.
For example, he invested in a Buser flatscreen printing machine. A Buser flatscreen printing machine was developed in the 1940s, and was commonly used for draperies and apparel. The Buser was developed and modified to printing flags, which became a great tool for efficient mass production. This development was a key trigger to transition the company to being a flag manufacture from textiles. However, Dr. Dawood's vast knowledge of textiles didn't go to a waste as it was heavily applied to improve the quality of flags over other companies. His contributions made us the only company that can complete bulk orders of over 300 in the shortest amount of time without sacrificing quality.
The final tipping point was the acquisition of a faltering flag manufacturer called Canadiana in the early 1990s. The company had several enormous contracts with various levels of government Scythes & Co. bought the company, bringing a considerable amount of flag business its way. In addition, it made us to be very knowledgeable about official Canadian sizing and specifications.
Olympic Flags with Scythes & Co.
Flags and banners were beginning to take centre-stage at Scythes & Co. Aside from the portfolio of government contracts purchased with Canadiana, the company was striking high-profile deals for the Commonwealth Games (the XV games in Victoria, B.C., in 1994, and the XVII games in Manchester, U.K), the Summer Olympics (in Los Angeles of 1984 and Atlanta of 1996) and for the 2002 Salt Lake City Winter Olympic Games.
Canada Flags for Heritage Canada
In the mid-1990s, the federal deputy prime minister and heritage minister Sheila Copps began her campaign to put a Canadian flag into the hands of every Canadian. Heritage Canada doles out 75 flags to every to every member of Parliament, and National Defense is to this day a prominent customer. It seems that Dr. Dawood's timing was impeccable.
At the time, the company was rebranded as Flying Colours International to better reflect the sole emphasis on high quality flags, and the overall direction of the company.
In 2014, Dr. Dawood stepped away from the company and sold it to its employees. It was then known as Flying Colours International with the brand Canadiana under its belt. Canadiana became a sister company that is now known to reflect more on the modern and digital era.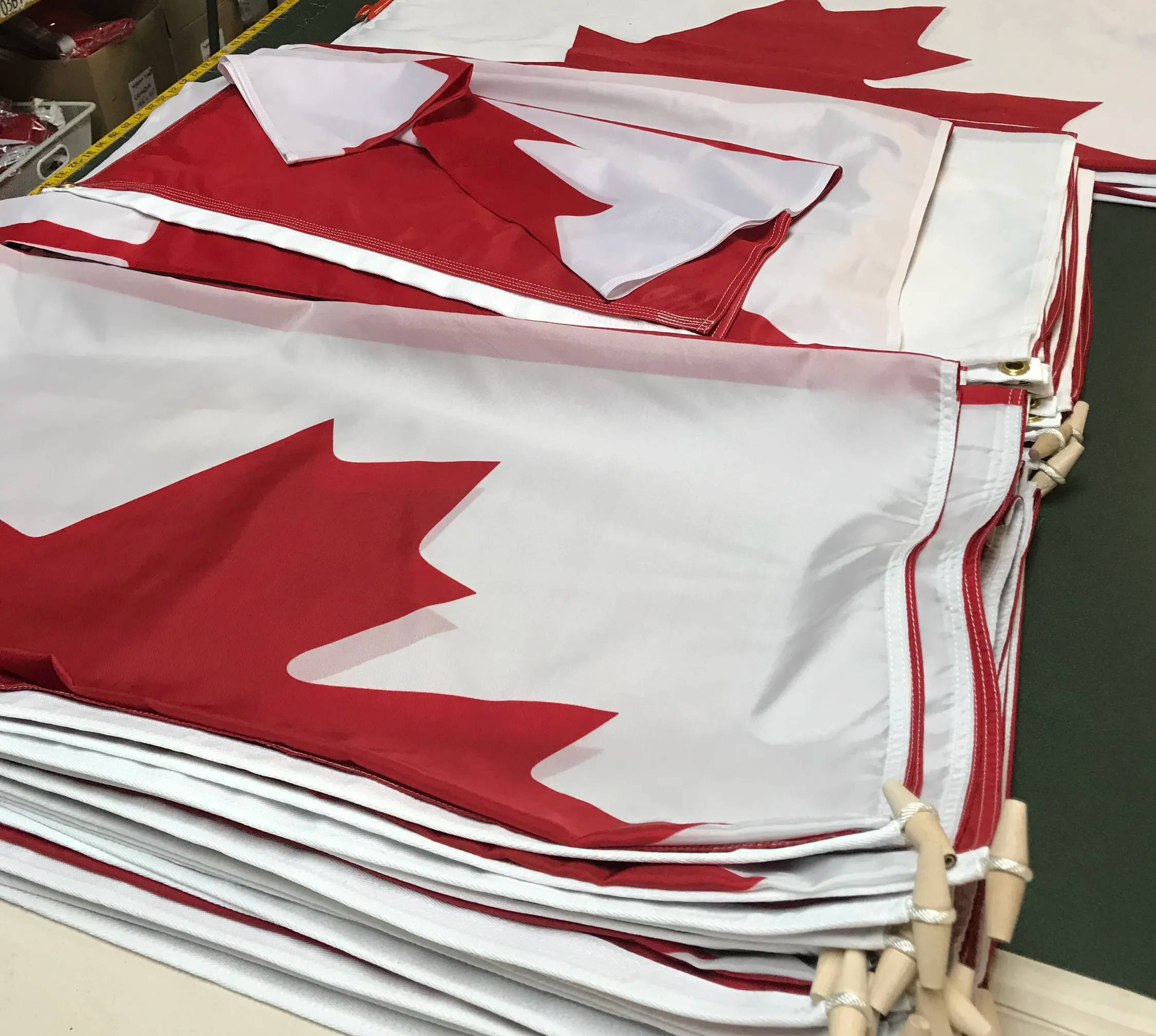 Through many years of experiences, redirection and advanced development, Canadiana Flag is a company that wore multiple hats. Each flag you purchase with us holds years of rich Canadian history. After the accumulation of knowledge over the years, we truly believe that our company is brought up by experts ; leaders of flag art craft and production practices.

---