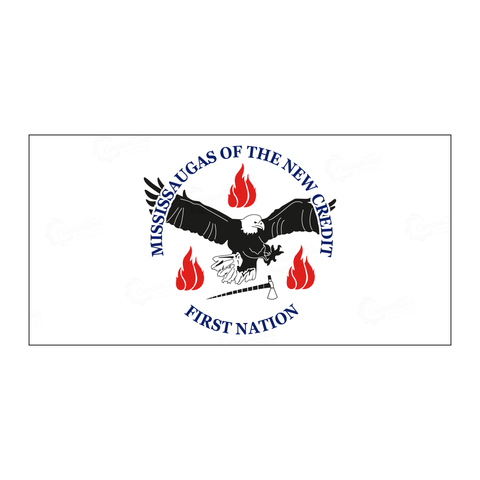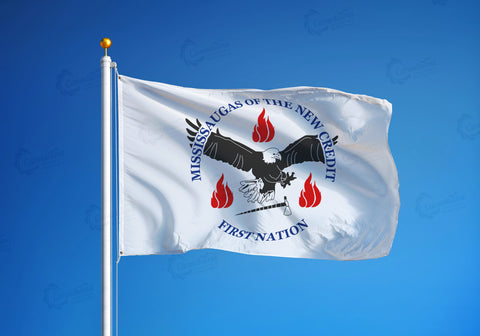 Product Description
Mississaugas of the New Credit First Nation Ojibway (Anishinabe) belong to the Algonquian linguistic group. At the heart of this emblem lies a powerful narrative, woven together by five symbols that encapsulate the essence of the Mississaugas' vibrant heritage:

🦅 The Eagle: Messengers of old, symbolizing resilience and determination.
🔥 Three Fires: A bond with Ojibway, Ottawa, and Pottawatomi Nations.
🔵 The Blue and Circle of Life: Interconnectedness with nature.
🪈 The Peace Pipe: A gift of unity and reverence.

The Mississaugas of the New Credit First Nation Flag is a testament to a people's enduring legacy, a vibrant tapestry woven with tales of bravery, unity, and respect for the natural world. It is a connection to a rich past and an inspiration for a brighter future.
Criteria

Features

Size

54 in x 27 in (4.5' x 2.25')
72 in x 36 in (3' x 6')

Material

Durapoly/ Knitted Polyester

Finishing

Tape Header with Grommets
Double-needles 3 sided
4 rows of stitching on the fly end


Specifications

Constructed using 110 gsm Polyknit, the most durable fabric in our Polyester line

Digitally printed single-sided with an 80% colour penetration on the backside. A bright appearance with a tough and sturdy touch

Sewn with strong, UV thread on a thick, white tape header

Product satisfaction guaranteed


Made in

Canada