What happens after you click "PLACE ORDER" on a custom flag?
Every flag has a story.
For example, the flag of Austria—a white horizontal panel between two red panels—bore its origin in battle. In 1820, Leopold V, Duke of Austria—Leopold the Virtuous, as he was known—returned from battle with his garb virtuously soaked in blood. But when he removed his belt, it was still white underneath.
The Brazilian flag's green and yellow field has a globe superimposed on it, with 26 stars in its southern hemisphere. These represent the positions of the stars of the southern constellations the night of November 15, 1889—the date the Brazilian Republic was proclaimed. The Bangladeshi flag has a practical aesthetic. The blood-red Bengal sun is positioned slightly toward the hoist in the deep green field in order to make it look centred when hanging from a pole. And if you're not familiar with the saga of Canada's Maple Leaf flag, you can read about it in this blog post here.
Your custom flag—be it for a service organization, a municipality, a sports team or a special interest club—may have an equally epic origin story. That story is for you to tell and we're here to help! But in the meantime, we'd like to share one of our own; the story of how your flag comes to be made after you hit the "PLACE ORDER:" button with us at Canadiana Flag.
Let's Get Started!
Your run of custom flags begins, of course, with your order. Aside from the quantity and size, your order identifies the fabric you'd like. We offer a wide variety of tensile strengths, weights, colour fastness and durability, from our economical Valuetex and Durapoly fabrics through our durable Nylite fabrics. (We're excluding our sewn appliqué products for the purposes of this post; that process deserves a story of its own.) It also specifies any finishing requirements. Finishing tells our production team how you would like your flag to be hung. Tape header with grommets is the most universal as it is a simple clip on.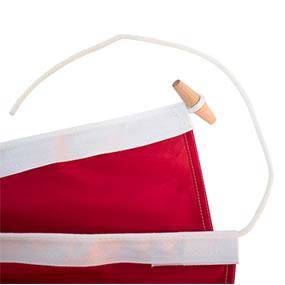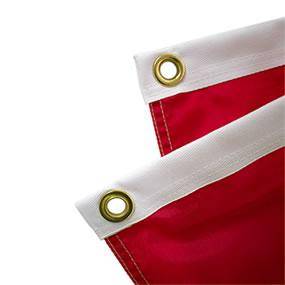 Bring your Design to Life
You can upload your flag design directly to our art department through our website. While we can work with a number of image formats, it's best to consult what the best one for your design would be. Our art department examines the suitability for printing, and renders a proof for your approval. We make sure that your art file will not result in pixilation on your flags or banner. To ensure customer satisfaction, we create a mockup for your approval before putting orders together.
Production
Once you've approved the graphic rendering, your flag moves into production. Most designs will be produced on an enormous specialized printer. Picture a huge laser printer with a dozen ink cartridges, printing line-by-painstaking- line at the highest possible resolution. One of the great challenges of flag printing is ensuring the dyes penetrate both sides equally without staining the printing bed. In our onsite laboratory, we have spent years matching inks to fabrics, ensuring colour reproduction is the same on the front and reverse of your flags. In addition, we do our best to colour match what you see on paper onto fabric.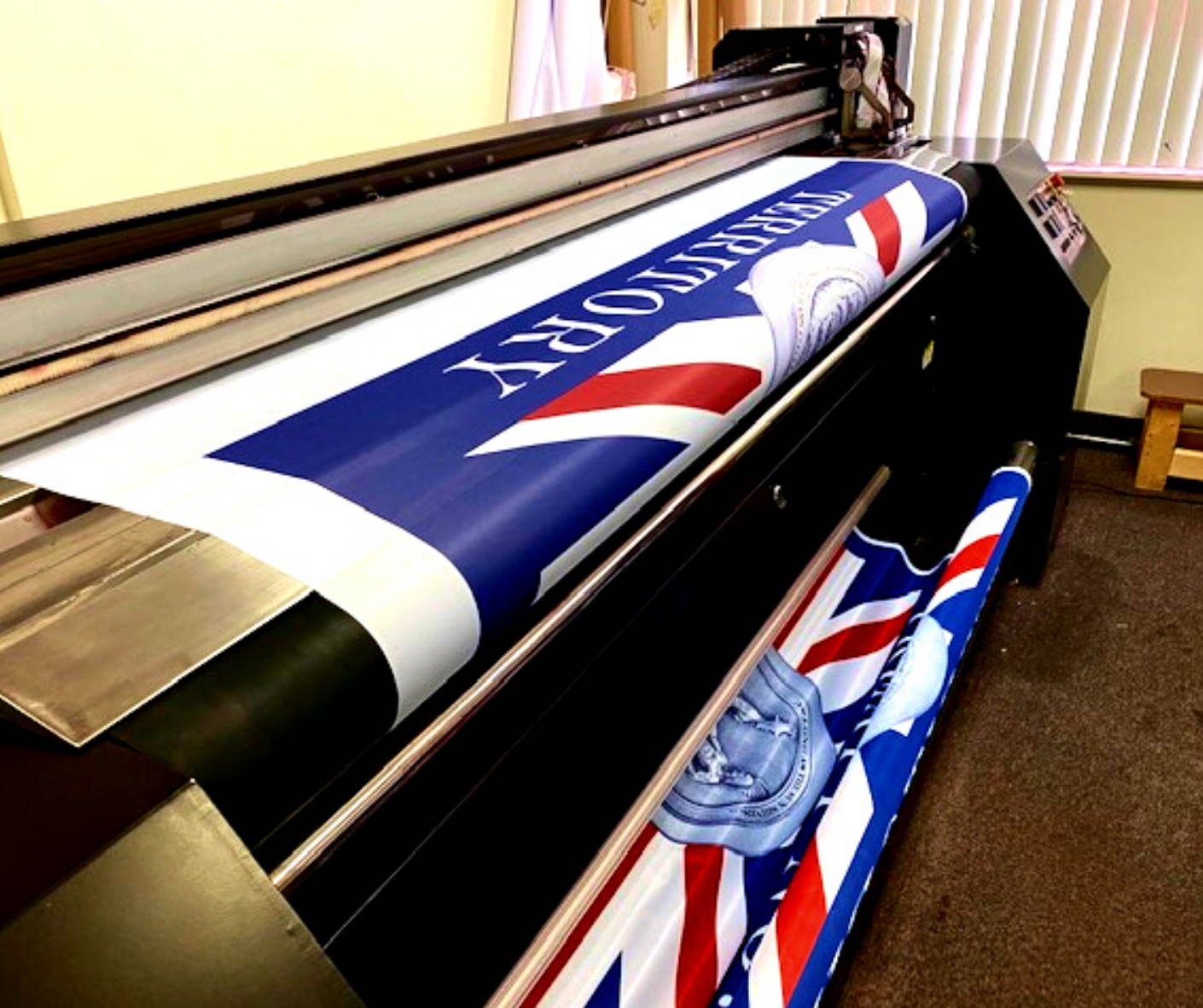 Finishing Touches
Once printed, your flag goes through a heat-setting process to set the dyes into the fabric. The heat-set flag is then washed to remove excess dyes. The flag is treated with water-repellent and ultraviolet (UV) light resistant solutions to maintain colour fastness. The fabric then passes through a dryer.
The final finish takes place in the sewing department, where edges are hemmed, grommets are installed along the hoist to attach the halyard, or possibly a rope-and-toggle arrangement that passes through a fabric gusset on the hoist side is sewn in place.
Your flag order is then packaged and sent to you by your specified delivery method—courier, mail or parcel delivery. But the true end of the journey is when it is hoisted up your flag pole.
When you're waxing poetic to passersby about the origins of your own special heraldry, make sure the product itself is putting its best face (and reverse) forward, with vibrant colours, clean whites and a heroic fly. At Canadiana Flag, it's our job to make it so.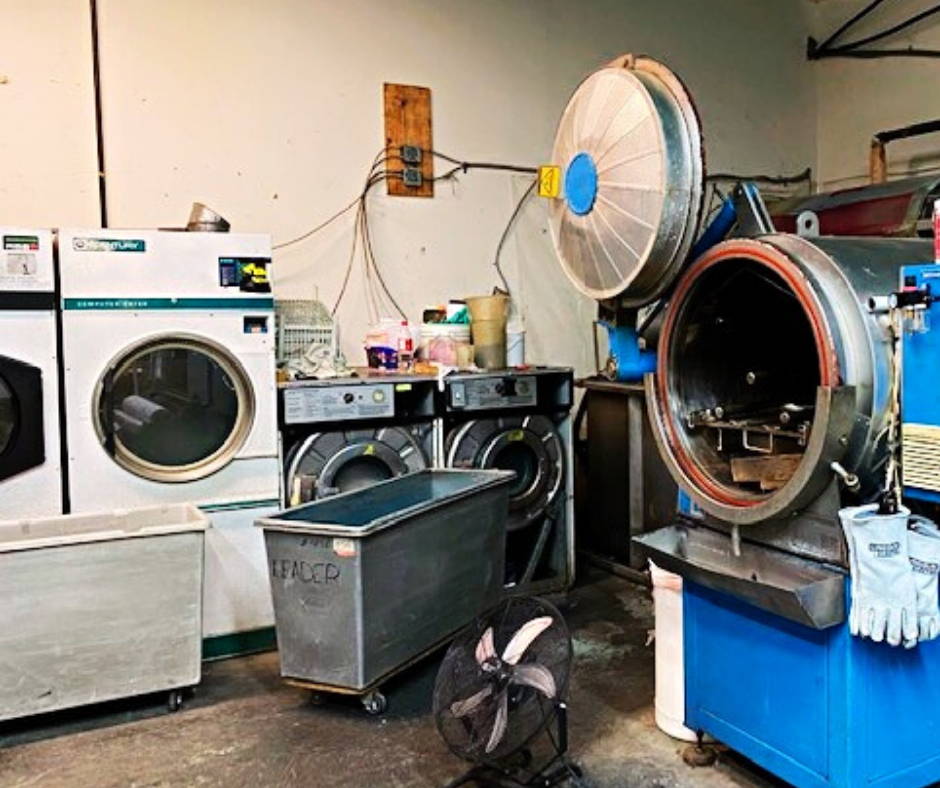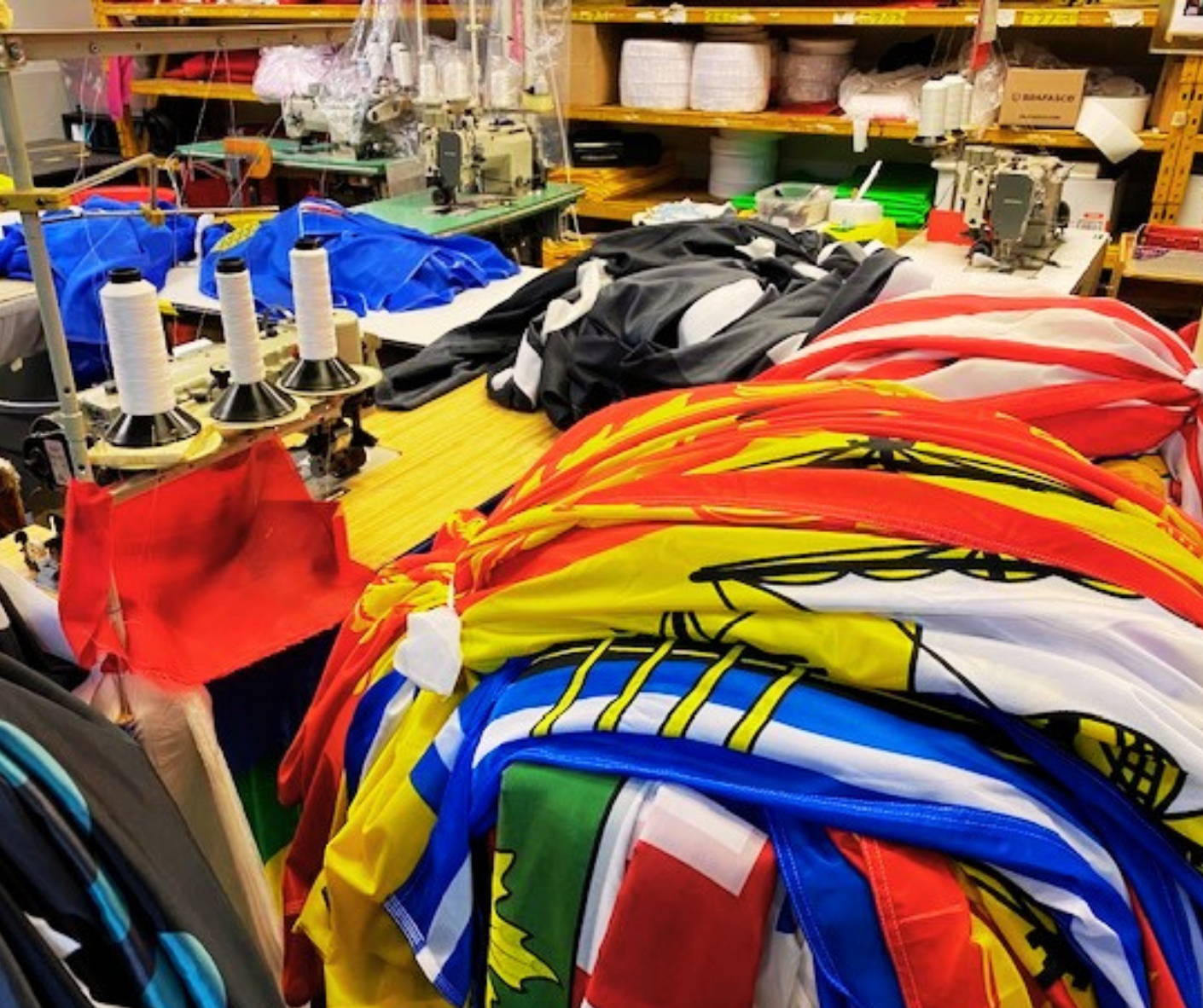 ---
---